The 150 Jefferson Proof Nickel Commemorative Certificates assembled by Felix Schlag have been referred to by many different names through the years; for the purposes of this discussion they will be referred to as the "Certificates." For the unfamiliar, the Certificates are printed on heavy cardstock measuring approximately 8" x 11". They contain a regular 1938 Proof Jefferson nickel, text referencing the open competition; include a photo re-print of Schlag's original winning design, his signature, the serial number (x of 150), the mark and seal of notary public, Paul M. Wagner, and are dated September 29, 1939.
Felix Schlag was announced the winner of the 1938 Jefferson nickel competition on April 21, 1938. Six days later, Nellie Tayloe Ross would pen a letter to him detailing the required alterations that must be made to his original design in order for it to be accepted. While the Mint had envisioned the new coin being released in early July, to coincide with the anniversary of Jefferson's death, it would take Schlag nearly 3 months to complete the revisions. July 21, 1938 marked the ultimate approval of his final drawings and he was notified that day by telegram that payment would be forthcoming
At the time, Felix was living in an apartment complex on West North Avenue in Chicago; a section of the city popular with many artists. According to Schlag, it was this close-knit group that, upon his winning of the contest, encouraged him to create the Certificates as a way to "commemorate these years of deep, sincere friendship."
Seemingly as Schlag was modifying his models, he was at the same time contemplating the Certificates. Upon receiving notification of the acceptance of his final designs, Schlag would, the same day, send telegrams to both Director Ross requesting information on what "arrangements [were] necessary to obtain total output polished proof coins from [the] first die of my 1938 nickel design." and to Henry Morgenthau "making application for purchase of total amount polished proof coins from first die of 1938 Jefferson Nickel designed by applicant." In response to these requests, Felix was advised by Director Ross that, "the policy of the Mint would not permit any arrangement such as is suggested."
Not to be dissuaded, Schlag would pen a letter to Director Ross on July 27, applying for 2000 polished proof coins from the first die; citing a regulation he was told existed which afforded him the right, as the artist, to pay for their creation. In reply, Felix was counseled by Acting Director O'Reilly, that he would receive, "the same consideration [given] to other requests for such coins." Further, she directed Felix to issue his request to the Philadelphia Mint and offered that it was, "doubtful if the Mint will find it practicable to supply any one person with a large number of proof coins."
A persistent Schlag would try again to leverage his position as the designer; this time with the Philadelphia Mint. The matter was referred to Director Ross who notified the Philadelphia Mint that Schlag's, "order should not be filled in advance of others being held."
For the coinage year 1938, the treasury minted 19,365 Jefferson proofs, of which an estimated 14,000 remain in existence today. Records from the Medal Department of the Philadelphia Mint confirm that deliveries of proof coins began on November 15, 1938 and concluded on December 30, 1938. A letter from Eric Leavens in the March 1939 issue of The Numismatist confirms that only limited supplies of complete proof sets were available for sale at this time at a price of $1.81 plus 8₵ for postage and insurance.
This is to acknowledge receipt of your order for one 1938 proof coin and cash in the amount of 28 cents enclosed. Please be advised that we are unable to fill your order for 1938 proof Jefferson nickel, as the 1938 proof coins we have on hand are a limited supply of full sets that are being held available for sale in sets only until sold. We will thank you for immediate advice as to whether you desire to increase your remittance to cover the cost of a full set ($1.81 plus postage and parcel post insurance 8c.) or to cancel your order. In the absence of an immediate reply your remittance will be returned to you in due course.
By RALPH ROLAND,
Acting Superintendent.
It was likely the summer of 1939, nearly a year after his initial requests, before Schlag was able to obtain at least some of the 150 proofs used in his Certificates. The first would have been a bag of 12 coins from the Philadelphia Mint fulfilling his initial $2.48 order from 1938 (proofs sold for 20₵ each plus 8₵ for postage and insurance).
All told, Schlag spent a little more than $30 for the 150 proofs he used in the Certificates. Recall that during this time he was employed by the Works Progress Administration as a Senior Artist/Sculptor earning $1 per hour. As such, these coins equated to nearly a week's worth of work. Had Schlag's initial request for 2000 coins been honored, not only would he have been in possession of 10% of the total proof coins produced in 1938, but it would have cost him more than $400 or nearly 3 months wages!
With proof nickels in hand, and the Certificate designed, Schlag had them printed and then assembled the pieces before having them notarized. The notary seal is that of a Paul M. Wagner. Genealogy records suggest that a Paul Mattison Wagner, born November 3, 1894 lived in Chicago, Illinois. Census records from 1930 and 1940 confirm that Paul Wagner was a Postal employee in Cook County. Unfortunately, the Illinois State Archives no longer possesses records of notary's from this era, so further authentication of Wagner is not possible.
An examination of the nickel specimens used in the Certificates reveals that they contain the serifs, first discussed by Tom DeLorey, (ANA LM-1696) in his 2009 piece, Mysterious Re-Engraving of 1938 Proof Nickel Dies More Extensive Than Previously Believed. DeLorey's position is that 1938 proof strikes were distinctly different from business strikes in that they possessed serifs, likely the result of die changes being made just prior to changing coin years. The presence of these distinct characteristics on the coins used in Schlag's Certificates suggests that they are authentic proofs.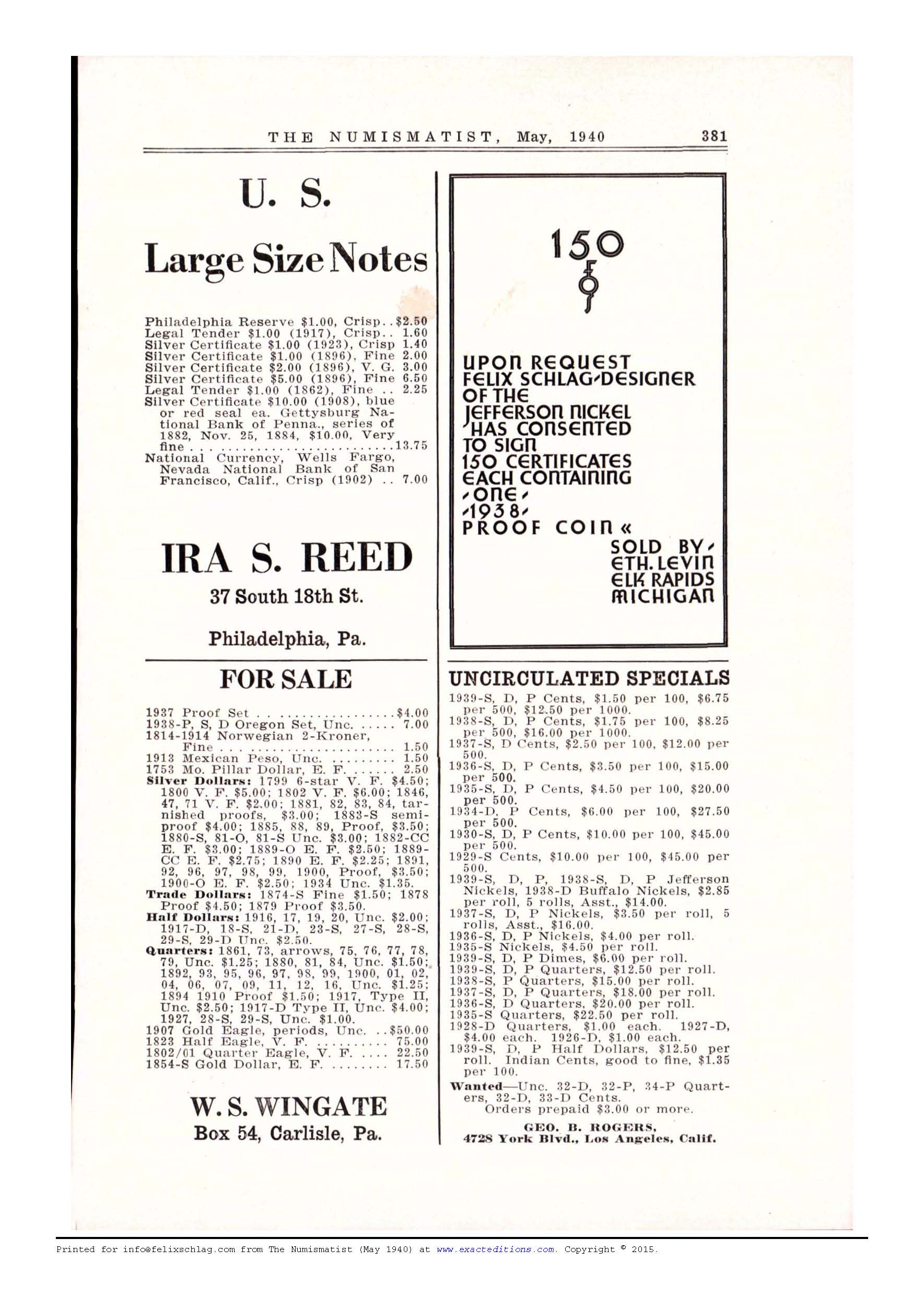 To gain insight into what Schlag did with the Certificates once assembled, we look again to the letter he wrote to Lee Martin in 1973. Initially Schlag gave them away to friends and relatives. Letters also confirm that Certificate #1 was provided to the Chicago Historical Society in November of 1939. He then had Ethel Levin, his eventual third wife, list them for sale in the May 1940 issue of
The Numismatist
. The advertisement yielded no sales. Ultimately, the remaining lot went into a box in his attic after he and Ethel, who were married November 22, 1940, moved to Michigan in 1941. Here the Certificates would remain for the better part of 20 years.
In late 1963 or early 1964, Ethel reportedly took ill, and Felix sold the majority of the remaining Certificates to Earl C. Schill, a Detroit coin dealer. As many of the Certificates in the possession of Schlag's decedents, are not framed, it is the believed that Schill is the one who placed them in the small, wooden frames which many are found encased in.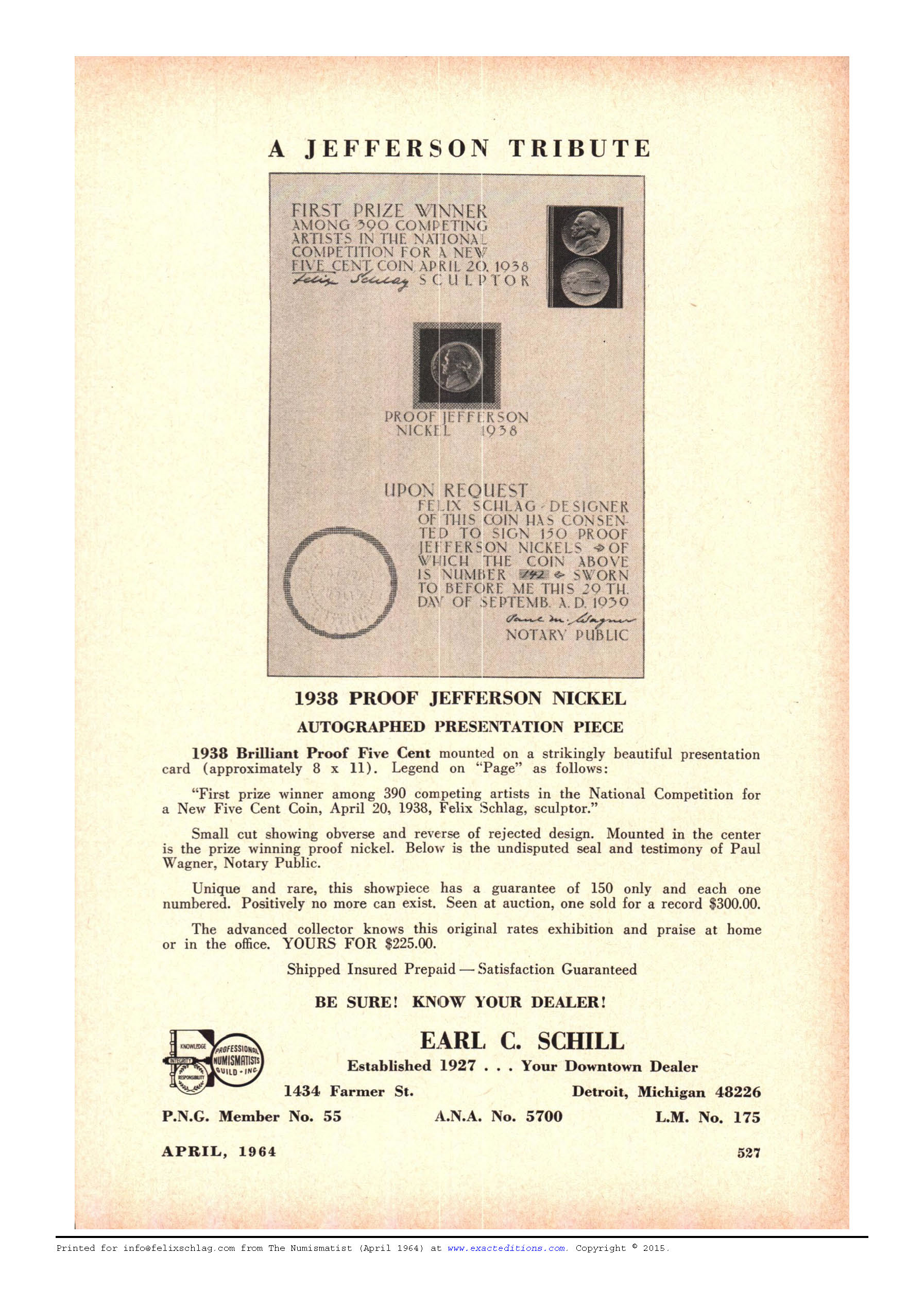 Schill launched a campaign to market and sell the Certificates with ads first appearing in the April 1964 issue of
The Numismatist
. The asking price was $225; adjusted for inflation that would equate to about $1750 in 2016 dollars. Out of the handful that Schlag maintained, he sent #3 to the
American Numismatic Association
in May 1968 where it remains today.
From this point, the remaining number and location of the Certificates begins to enter the unknown. In 1979, a North Carolina collector made an attempt to locate them, and had some success. He also began exchanging letters with Ethel Schlag who indicated in 1981 that she believed, "most of the Certificates were lost or discarded."